BOOM! ONSLAUGHT are back with a brand-new studio album and new Line up! The band formed in 1992 in Bristol, England by Drummer Steve Grice and Guitarist Nige Rockett, the latter being now the only original member to feature on the new album. Sticking with their 'punky' attitude of the early days, 'Generation Antichrist' is one of the best Speed Metal albums I've heard in a long time.
New vocalist Dave Garnett screaming right at the top of every song with maximum attitude and force really does complete this thrash masterpiece.  With elements of early Metallica, Anthrax, Megadeth and Slayer, this album is the love child of the big four.  It's a definite keeper for any thrash metal fan.
Production is near perfection.  James Perry's drums are the roaring thunder every great Metal Album should have, feeling the thump of the bass drum throughout, Jeff Williams reinforces with the Bass guitar which again is thundering through the entire album. The duel guitars of Wayne Dorman and founding member Nige Rockett really are the icing on this metal masterclass. You struggle to find a low point, it had my head banging from start to finish. Every Metal head needs this album in their life.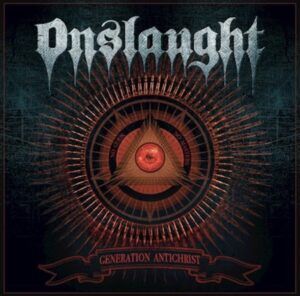 Generation Antichrist track listing:
1. Rise to Power
2. Strike Fast Strike Hard
3. Bow Down To The Clowns
4. Generation Antichrist
5. All Seeing Eye
6. Addicted To The Smell Of Death
7. Empires Fall
8. Religiousuicide
9. A Perfect Day To Die
Pre-orders for 'Generation Antichrist' are available HERE
ONSLAUGHT are:
David Garnett – Vocals
Nige Rockett – Guitar
Wayne Dorman – Guitar
Jeff Williams – Bass
James Perry – Drums
OSLAUGHT online: