The fifth anniversary of Stonedead was tinged with sadness with the sad unexpected death of FM's Chris Overland during the week and just as we arrived the announcement that the legendary former Whitesnake guitarist Bernie Marsden had died too. All those in attendance decided to celebrate the lives of two fine musicians in the only way they know by drinking vast quantities of fine ale and rockin' out.
The risk of rain was evident, but we were prepared for it. The crowd was noticeably larger and noisier as Collateral opened the day's shenanigans.  Playing the biggest gig of their career to date and visibly emotional about the fact, Collateral took to the stage late morning and got the ball rolling. Despite my erstwhile colleague's viewpoint, Collateral to me represents a brighter breezier time when rock music was all sunshine, fast cars and Jack Daniels. They play it like a British Bon Jovi and if they continue on this trajectory, then we'll be seeing them drop some anthems when their second album drops next year. Unlike Smudge who described them as average with average songs and average ability, I think they stand out from the crowd and leave a trail of also rans behind them in the current classic rock scene here in the UK. The crowd definitely were on my side as well which meant the day got off to the best of starts as well.
The dial was turned up another notch when South Of Salem's intro kicked in and two cheerleaders / dancers replete with rather terrifying masks clambered onto their podiums. The band came on and blew us away with their dark melodic metal. Their music and performance is suited to the bigger stage where we were treated to huge bangers like 'Let Us Pray,' 'The Hate In Me', new song 'Static,' the monstrous 'No Plague Like Home,' 'Pretty Little Nightmare' and the final boom of 'Cold Day In Hell.' They also more than made the most of the open space and the opportunity for pyro and sparklers. Track after track was enhanced with woofs of flame and vertical showers of sparks. Definitely one to watch out for in a headlining slot in the near future.
From dark and heavy we went to the hair metal Sunset strip vibes of Deraps from Canada. All I'm going to say is Van Halen! That gives you a taste of their flavour and boy did they tear it up. Only a three piece they brought their 'A' game and finished with some crowd pleasing covers – 'Hot For Teacher,' 'Highway Star' and a raucous 'Ballroom Blitz' which got everyone of all ages going crazy. Deraps – perfect for a festival.
It was time to get heavy again with Florence Black – deputising at short notice for Mason Hill (who by now, I'm sure you will have seen their lead singer step down due to health issues. A huge shame as they were just starting to go places. Health first though, so good luck to all concerned – Florence Black are another band I have seen a few times [the first being back at Camden Rocks at the Old Monarch pub sometime in either 2015 or 2016. They made an impact on me then and at Stonedead, well they just get better and better. The sound they make is huge with a ton of groove and melody and they're not afraid to go into some pretty dark and heavy territory with the likes of 'Smoke,' 'Black Cat,' 'The Deep End' their cover of Budgie's 'Breadfan' and the one everybody came to hear the utterly superb 'Sun And Moon.'
My colleague Smudge decided it was time for food, so he decided to skip King King who, as another band I've seen more than a few times, felt out of place at the festival. Smudge himself noted that the energy levels grew with each act so by the time King King came on the crowd were buzzing. King King sadly felt a bit flat. They are great at what they do, no doubt, but it was just too 'nice.'  Chilled blues rock maybe was needed mid afternoon but it was left to The Answer to put some energy back into the crowd. Singer Cormac Neeson is a showman and short of walking on water he gathered the faithful and proceeded to give a sermon (musical) by leaping into the crowd and cajoling them to get down on their knees around him, but bouncing back up and 'almost' starting a mosh. Slightly surreal, uplifting and yes a little inspiring, but it worked and by the time Therapy? came on… things were firing again.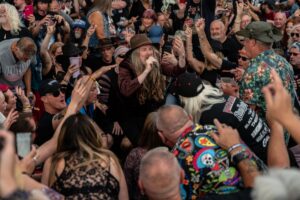 Therapy? to quote Smudge "crushed with their Northern Irish riffing and shouting (trademarked by Andy Cairns)." He certainly loved them and there was almost (almost) a moment where the deckchair brigade stood up for a bit of a dance. Almost…. not quite, but if anyone could, it was Therapy? The standing crowd absolutely loved them and bounced along with bassman Michael McKeegan to every number. Cairns encouraged everybody to speak in a Northern Irish accent then obliterated us with the likes of 'Diane,' 'Teethgrinder' and the mighty set closer of 'Screamager' which literally brought the house down.
Now, Black Star Riders should have been here a couple of years ago but couldn't perform at the time so, finally, we get them back and boy was it worth the wait. The band are at that flawless, polished level now that they can do no wrong on stage.  Their set was full of finely crafted tunes before the crowd went wild for 'The Boys Are Back In Town' and 'Crazy Horses' before the stirring 'Finest Hour' finished their evening.
When Blue Oyster Cult were announced as headliners, both Smudge and I were sceptical. He had heard horror stories about their behaviour and attitude towards fellow bands and staff, plus I think you have to be a real true fan of the band to appreciate them. We were told no photos of the band which is why you see Black Star Riders portrayed as the headliner for 2023 in our review. Now of course, we all know that one Blue Oyster Cult song, and certainly enough people in the crowd brought 'more' cowbells to play along to it, but the atmosphere during their set was lacking. Diehards loved it, others left early. The true test clearly, the number of people present at the end of the set and a good 40% had gone by then which is a shame for the headline act.
Blue Oyster Cult started brightly enough but it was evident that Eric Bloom's voice was not what it once was, sounding thin and weak, hardly surprising for a man who should really be playing golf and enjoying drawing his pension. They carried on and brought out 'That Was Me,' 'The Golden Age Of Leather,' 'Godzilla' and 'Burnin For You,' but they sounded slow and whilst the sound was clear enough, it lacked the spark from when I last saw them at Ramblin Man a few years ago. The cheers went up for '(Don't Fear) The Reaper' and the cowbells dinged around the arena and we got an extended jam on final cut 'Cities On Flame With Rock n Roll.' If you stayed for the duration, fair play, I'm sure you enjoyed it.
Now one thing that does need to be mentioned. This is a festival by the fans for the fans and Stonedead have once again done a remarkable job. All the staff were friendly, engaging and willing to help. It's a big thank you from me to Mark Ellis for his hard work in dealing with the photo pit as he was pulled from pillar to post in terms of what we could and could not do. As ever, my partner in crime Smudge makes it all better and it's always good to use him as a sounding board for some of the acts (even if he is wrong about Collateral).
In addition to those bands we see on stage, we got to see loads of members of other bands just there for the craic. We bumped into members of Ward XVI, Sons of Liberty, She Burns Red, Circus 66, Star Circus, Doomsday Outlaw, The Dust Coda, King Kraken and a few others – of course none of them would admit to being on next year's bill. We therefore remain in the dark, but nevertheless keep the faith that Chris Sumby and the rest of the team know just what to do to tick all the boxes, push a few buttons and trigger a debate or twenty. After all… any publicity is good publicity isn't it?
See you at the bar in 2024.