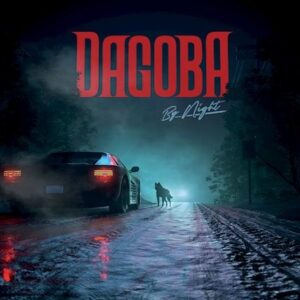 'By Night' 18th February 2022                Napalm Records.
Tracklisting:
1    Neons
2    The Hunt
3    Sunfall
4    Bellflower Drive
5    On the Run
6    Break
7    City Lights
8    Nightclub
9    Summer's Gone
10    The Last Crossing
11    Stellar
With great talent comes album No.8, as DAGOBA continue to revolutionise the modern metal scene with their new album 'By Night.'
To attempt to place DAGOBA in a single category of style would be the equivalent of trying to place every alternative person into a single cookie cutter mould, and by that I mean, it cant be done. This band gives new meaning to the phrase "Vive la revolution;" as they continue to take the world of modern metal by storm with each sensational album that brings a little bit of everything into the alternative world. Unafraid to push the limits, DAGOBA is a rich tapestry of modern metal, screamo, rock, and even techno; blended together with dynamic vocals and killer guitar riffs. Add with a rhythm made for the mosh pit of your dreams, and you have yourself a band that demands and deserves all of the attention and praise they receive.
DAGOBA's 'By Night' is one that has been highly anticipated by fans everywhere; having been spoiled by receiving not one, but three early song releases. Starting with 'The Hunt'  July 2021, a fiery explosion of metal and techno paired together with an action packed music video left fans reeling and hungry for more. 'The Hunt' was then quickly followed by 'The Last Crossing' November 2021, and with it came an explosive introduction of guitar riffs, drums, and guttural vocals have you violently headbanging to the beat before you even realise you've started. Finally, DAGOBA's early releases concluded with 'On the run' January 2022; a song much more reminiscent of a classic rock ballad with smooth and mournful lyrics, a rhythm that sways between a gentle background tempo to base dropping drum solos. With all of this in place, it's no surprise fans have remained at the edge of their seats, eagerly waiting the release dates of the remaining songs.
It is with great pleasure I can say they were very much worth the wait. Each song provides a unique blend of rock, metal, screamo, and techno; each style is given a different level of exposure within each track. While songs 'Neon' and 'Stellar' place great emphasis on the bands use of techno, as both instrumental tracks focus on combining the use of guitar riffs with strong electro elements; others such as 'Summer's gone' focus primarily on the elements of screamo and heavy metal with deep guttural lyrics heavy drum and guitar solos. With a track list like this, there can be no doubt there is truly something for every metal fan to be found within DAGOBA's 'By Night.' Each song holds nothing back and will have everyone reconsidering what they knew about modern metal. This French band continue to break down barriers and create possibilities we didn't know even existed. Like the ancestors of their home country, this band will go down in history with a great revolution in their name.
DAGOBA Are:
Shawter – Vocals / Machines
Richard De Mello – Guitar
Kawa – Bass
Theo Gendron – Drums