GHØSTKID's music is a headlong dive into darkness and aggression. It aligns on new paradigms: baring its teeth while keeping a sense for catchy melodies. GHØSTKID is the new namesake of Sebastian "Sushi" Biesler and a conspiracy of friends and likeminded allies who have come to a riot of their own.
In November of 2020 the band released their self-titled debut album to international acclaim and was nominated for "Best International Breakthrough Band" for the Heavy Music Awards (UK).
2022 is shaping up nicely for GHØSTKID who has just announced an upcoming UK tour in February and a stream of an exclusive show together with Any Given Day on January 30th.
"I'm more than happy that we finally get the chance to play the first GHØSTKID UK shows ever. Due to the pandemic it was almost impossible to realize anything, but we're totally looking forward to seeing all of you and playing some kick ass shows! For all the other kids around the globe, check out our one-of-a-kind concert stream together with Any Given Day. 'THE STREAM' is available worldwide on January 30th, 2022. Go get your tickets now!" Comments GHØSTKID.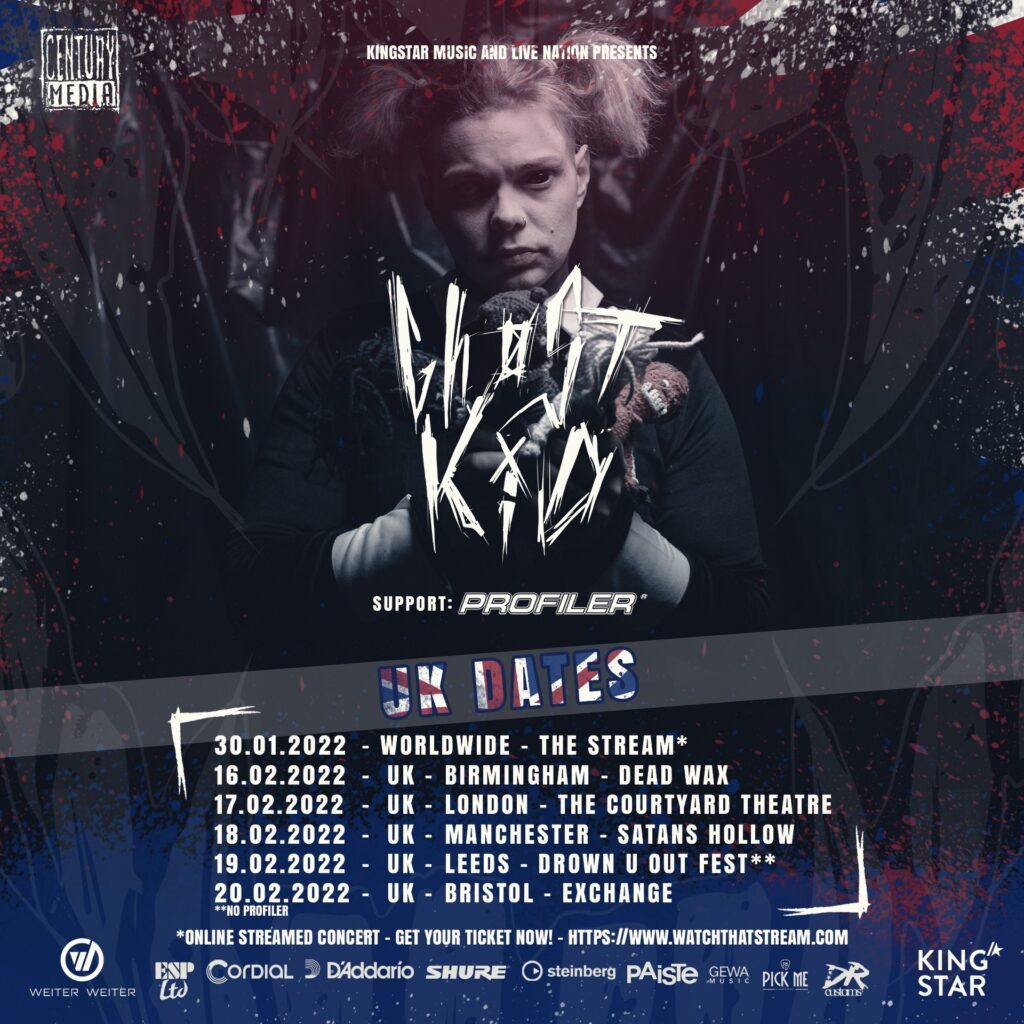 General Presale Start: 12. January, 2022 (10:00 AM GMT)
In case you cannot make it to the UK shows or simply cannot get enough of GHØSTKID you have the option to enjoy the special show from your couch on January 30th. Head to the following link and secure a ticket for 'THE STREAM' that is available for 48 hours: https://www.watchthatstream.com/
GHØSTKID on 'THE STREAM': "Due to the unpredictable situation with the pandemic artists discovered different ways to present their music. We wanted to keep the connection to the thing that we love the most, but we also wanted to do it in a very different way. We combined the two worlds of music video production and playing live shows to create this unique streaming experience. We put lots of passion into this project and hope you'll enjoy it as much as we did! Enjoy 'THE STREAM'."
Andy (guitar) from Any Given Day adds: "As we were not able to play any shows for almost two years we were thinking to do something special for our fans. We wanted to create the ultimate streaming show experience which our fans can enjoy out of their living rooms. Our initial thought was: We really wanted to create something where the viewers will have the feeling that we are playing in their living room and to feel like being a part of the show. We are proud to announce 'THE STREAM'!"