It's been too long since the real aura of rock filled the Birmingham air, the raunchy guitars , possessive drum beats and the smell of beer lingering in the air, it was the Brummies turn with no other than the incredible force that is The Libertines gracing the main stage of the 02 Academy. Love them or hate them , it's coming up to twenty years since 'Up The Bracket' was released and days gone by of the NME era of drugs, sex, fights and alcohol, the catchy foursome still captivate audiences and draw in the sell out crowds.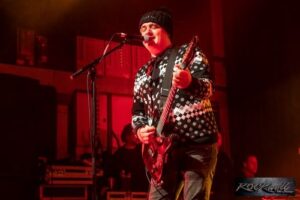 Appearing decked in his Christmas jumper, also available at the merchandise stands for a value enticing £35, a healthy looking , Bobble hat clad Pete Doherty appears ready for the nights festivities and bursting into the anthem of 'What a waster,' crowd bouncing up and down throwing beer in the air as the first casualty of the night appears lifted over the barrier, like lemmings another eleven, twelve, thirteen followed as they wanted to be closer to their idols. "Hello Birmingham"  Pete bellowed with the crowd screaming in adoration, hanging on to his every word, rip roaring through the upbeat set Carl Barat and the boys whizzed through the uplifting, crowd pleasing catalogue of fan favourites "What Katie Did,' 'Death ok the stairs' 'Boys in the band' each track getting a bigger cheer than the last, sweat pouring from the crowds faces as they swing their arms in the air for this revolution . Drumming up the sweet football rivalry that grips the midlands Pete chirping on about 'Villa Park' fell to boos from the crowd only to rectify himself calling the second city "home to Peaky Blinders," Tony Hancock and The mighty Zulu Warriors. 'Gunga Din, 'Boys in the band' and 'Can't Stand Me Now' sent the crowd wild with an out of this world drum solo from local lad Gary Powell,
he tried to cool the rivalry saying "it didn't matter where people had came from," getting the biggest cheers of the night. Cheers erupted as the crowd wanted more , leaving the stage they eagerly clapped and cheered awaiting a finale, and what more than a rousing encore of 'The Delaney' followed by 'Don't look back into the sun.' No need for new music with a catalogue like this keeping the crowd jumping all night, with Carl Barat earlier in the year teasing a follow up to 2005's 'Anthems For Doomed Youth' with NME I'm sure the fans are hoping 17 years will be long enough to wait even if they are happy enough to continue listening to the classics until it comes.
Picture Gallary