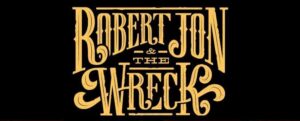 In a day and age of here today, gone tomorrow artists filling arenas and touring certain touring acts using backing tapes throughout their shows, it's reassuring to know that some bands are out there live and raw, doing things the hard way. Capturing the visceral excitement of a night of loud, sweaty music has been the lifeblood of the scene for decades and both artists and audiences understand this very fact, the communion between the parties a sacred thing.
There's an unbridled joy here at work for Caitlin Krisko & The Broadcast, the North
Carolina quartet obviously thrilled to be playing their first tour this side of the Atlantic. Soaked in a soulful gumbo of blues and rock, they're the perfect accompaniment to the headliners and with a swaggering 'Half Asleep' kicking off their set there's an immediate chemistry here that makes you take notice. Front and centre, Caitlin Krisko is a ball of fire and joy, her honey bourbon vocals a smooth blend of rough edges and sensuality as she glides and prowls around the stage. Whether letting loose on the rattlesnake shake of 'Blue Heron' or diving into the affecting and bleeding honest emotions of new song 'Haunted by You', the band show a kaleidoscopic range, Aaron Austin's fretwork able to sizzle and cut deep.
With the swing of 'Devil on your Side' and the funky 'Operator', drummer Michael W Davis and bass player Tim Lefebvre also make their presence heavily felt and displaying commitment to the material not egos as they keep things watertight. With the slow burning 'Led Blood' featuring an extended incendiary solo from Austin, the propulsive roots rock of 'Fighting the Feeling' and a crushing cover of Led Zeppelin's 'Rock 'n' Roll' closing the set, Krisko and band had won over the whole of the audience in indefatigable style. Destined to become a much welcomed and loved band over here, Caitlin Krisko & The Broadcast's first foray into the UK had proven a triumphant event that will reap huge dividends for them and set them up for even greater success in the future. The love affair starts here.
Caitlin Krisko
 Robert Jon & The Wreck have already won the hearts and minds of the public here, having built up a reputation through regular tours up and down these fair isles. It's no
wonder that they've been embraced with such fulsome adoration, their successive albums high benchmarks of the sort of Southern Rock and blues that mixes the Stones, John Lee Hooker and Hank Williams Jr, throwing in some Hendrix for good measure. Given the power of the material and their live shows, it's no wonder that they've been embraced so fulsomely over here and this latest tour sees them playing to ever increasing crowds and selling out larger venues. Speaking to perma-smiling and shades wearing bass player Warren Murrel after their set, he expressed the wish that they never lose that face-to-face contact with their audience but given their unstoppable rise, the enforced distance of arena shows are certainly beckoning.
Stripped of any pretense, the band stroll onto the stage and tear into the big and ballsy 'Pain No More' like they were born to do this, the ease brought on by countless hours on the road. This may be a well-oiled machine but it's never one that's too slick and lacking soul, their blue-collar ethos one that shines in everything they do. The bombastic shimmer and keening harmony guitars of 'Do You Remember' are full of youthful zest and a joyful
'Tired of Drinking Alone' are both greeted like old friends, Robert Jon Burrison's rich, countrified voice at its storytelling best. It isn't just old favourites that are greeted warmly as new single 'Stone Cold Killer' hits hard, displaying their knack at writing an instant classic, its irresistible singalong chorus a giant hook.
Throughout, Henry James Schneekluth's fretwork is nothing short of mercurial, each solo touched by angels and channelling the pure rock 'n' roll spirit that electricity was invented for. With the Nascar roar and excitement of 'Don't Look Down' and the ever ecstatic 'Oh Miss Carolina' leading to the extended and euphoric climax of 'Cold Night' that saw Schneekluth and keys player Jake Abernathie playing off each other, sparks flying, as Murrell and drummer Andrew Espantman bring a funky drive that can't be stopped. With an encore of a titanic 'Last Light on the Highway' bringing the night to an unbeatable finish, all that was left was for the quintet to take their bows in the sure knowledge that they'd poured their all into the performance, every last bit soaked up by an eager and mesmerised crowd.  On form like this, there's no-one who can touch them and their road leads ever upwards. Genuine legends in the making…
Robert Jon & the Wreck