Friday morning, Crisix unleashed a frenzy with its powerful guitar riffs and restless energy, giving way to the first mosh pit of the day and headbanging. Blue Pills, the Swedish rock band on mainstage 2 is very reminiscent of the psychedelic rock scene from the 6O-70's. Their name, costumes and a trippy black and white backdrop and of course their music suggests so. I kind of got thinking about Jefferson Airplane. Elin Larson was successful in enchanting the audience with her intense, seductive voice and performance. All I can say is these Blue Pills are definitely effective.
Danko Jones this Canadian trio brought in their good humour and playful energy. Playing hits such as 'I Gotta Rock, 'I'm in a band' real feet stomping numbers. In between songs Danko Jones interacted with the crowd by cracking jokes or passing on some witty lines. Overall, Danko Jones put on a good show and made sure his spectators were living their best life. While Danko Jones had already got people dancing, Nitzer Ebb was next to ensure the party continued. For this show, it was Bon Harris who took over vocals in place of Douglas Mc Carthy. Though Neitzer Ebb's music personally does not appeal to me, they have their loyal fans and that's how they have been around for last 3 decades. Neitzer Ebb left their fans content with their pounding beats, and energetic synth sound!
Dragon Force: A British power metal band found by Herman Li and Jam Toteman are in a different zone from Ebb. Watching them live was a different experience. Being a young and energetic group, each one a talented musician. The crowd lapping it cheering throughout their set. With a fan base constituted of young kids much like the fan base of Alestorm. The best way to describe their show would be as "cool", the band interacting and playing up to the cameras around them. It was a playful, fun, cool show with décor and references to video games, fantasy themed lyrics along with energetic riffs and vocals.
Killing Joke: The show I've been waiting for! A mad virtuoso – Dr. Jaz Coleman was dressed in his signature black jumpsuit and dark glasses. The audiences welcomed J.Coleman and his team with cheers, whistles and chants. The emissary for humankind, sending out messages about war, destruction and doom is their theme, but compelling you to dance in jubilation while awaiting the doomsday! Before singing 'War dance' he says "There is going to be a big war that humankind has not seen yet so let's do the war dance. Watching the expressions of J. Coleman is an experience every fan has been waiting for. It's intense, kind of crazy but endearing at the same time. There is almost nothing you can't love about Killing Joke. Some might argue their tunes are a bit passe but nonetheless their theme and tunage are as relevant as the question of survival of the human species. To understand and enjoy Killing Joke one has to let go of yourself and enter the universe that is Killing Joke who have been making music for and about the dysfunctional humanity for 40 years now. They have inspired many bands during this journey.
Having a well-drawn out set for this show with songs such as 'Love Like Blood,' War dance, 'Primitive', 'Total Invasion', 'Death And Resurrection Show' Ending their set with 'Pandemonium' leaving fans wanting more. Ending with cheers, chants and ovation.
Kreator German trash metal was welcomed on the stage with enthusiasm. The stage decor was dramatic with impaled dolls dressed in orange were either hanging from the top or placed on spearheads. Guns spitting fire on stage throughout their performance. Their show was as zestful as it always is and true to their reputation, very strong and steady. Mille Petroza's dominant vocals and sharp riffs led to circle pits, headbanging and crowd surfing. Their setlist included some songs from their new album 'Hate Uber Allez' then hits like 'Pleasure To Kill' and 'Flag Of Hate.' Meanwhile even the rain gods decided to enjoy the show as it started raining towards the end of the show.
Ministry: It looks like the skies bowed down to Ministry, as it poured heavily during their entire show, but that did not deter fans such as myself, everyone pulled out whatever rain covers they had and stood there enjoying every track. The show began with a big screen displaying the flag of Ukraine its anthem playing in the background, with a message that said, "Ministry stands with Ukraine" announcing its solidarity with the war-torn country of Ukraine and its people. Following that, Al Jourgensen and the team arrived on stage greeted with cheers and shouts. They began their set with 'Beathe,' followed by 'The Missing', 'Diety' followed by a cover of 'Supernaut" by Black Sabbath. The enthusiasm and zest amongst the crowd kept rising with every song and parallelly the rainfall got heavier too. The backdrop screen on the stage kept diffusing different psychedelic images for each song, fans kept singing along and jumping to the pounding beats and rhythm of Al Jourgensen. Vocals are bewitching, screams, rhythmic chants, squeals are very captivating so much, so no one cared about the rain anymore but enjoyed every minute of this riveting performance. By the end of the set, the crowd wanted more with Jourgensen wanting to go on too but as performances are strictly timed for smooth continuation, promoters could not allow him to continue, Jourgensen then excused himself and left the stage thanking his audience and leaving them with his tag line "Fascist Out." This show was an euphoric experience for the Ministry has an undeniable presence on stage.
Alice Cooper – The Godfather of Shock Rock needs no introduction. Supporting a grand stage décor, monsters, castles, illusions, various props and pyrotechnics. Every song is performed and depicted through various characters and props on stage. Alice Cooper has a career spanning over 54 years, entertaining and enthralling audiences all over the world. At Hellfest too, it was an enthralling show, a very visual musical show. From a wicked death beheading Alice to a huge monster attempting to scare people and Alice's expression while singing in his raspy voice, every bit engaging. Refreshing his presentation, Alice with many new costumes and props specially for this show.  Each member having their own distinctive styles and personas.
Nine Inch Nails: An impressive performance and elaborate light show, a befitting closing act for the day!
Saturday 25th June
After a sublime performance by Michael Monroe and Glory Hammer, the mood for most of the afternoon was of Rock/blues/soul with bands like Ayron Jones, Gary Clark Jr. and Mile Kennedy and company playing the Mainstage.
Ayron Jones: A band from Seattle, Washington brought in some refreshing energy with them. Their mix of grunge, rock, hip hop and soul were very appealing. Ayron Jones is a gifted musician. The band put on a very groovy and soulful show. Releasing their first album in 2021 and since then they have been catapulted towards success. Performing as an opening act for legends like BB King, Patti Smith, The Rolling Stones to name a few. They definitely earned more fans (including me) with their delightful performance at Hellfest today.
Gary Clark Jr. – A fine singer and songwriter from Austin Texas brought in the elements of soulful Jazz, Blues. His deep voice and musical arrangement are very engaging and fascinating. An endowed musician with many Grammys and other accolades under his belt. He added a pleasurable cool breeze to the hot afternoon at Hellfest, hope to see him again.
Miles Kennedy: Currently touring internationally to promote his new solo project, Miles and Company, his performance at Hellfest was the last one out of the successful international touring dates. Receiving a warm reception from the fans. A set carefully chosen to setting the right mood for the festival. Being with 'Wake Me When It's Over' followed by a 'Thousand Words' from their latest album 'Ides Of March.' This was groovy, with original, classy numbers drawing on bluesy tones and southern rock vibes all sprinkled with a hint of jazz, true Miles Kennedy flavours. A solid assortment of blues, Jazz and rock. The poised and distinctive vocals of Miles  never fail to fascinate audiences.
The remainder of the evening was filled with sensuality and intensity from the melodies of symphonic and folk metal while awaiting the Icons of hard rock – Guns And Roses. By now the Mainstage arena was completely packed. Eluviete : A swiss folk metal band was welcomed on the stage by cheers, shouts and judicious hands up in the air. They just attacked their instruments, and a fierce set began with fast drumbeats accompanied with melodious flute to go along with Chirgel Glanzman's growling heavy singing with melodious backup vocals from Fabienne Erni. They began their set headbanging, with the the crowd reciprocating. Mostly playing hits such as 'A Rose For Epona,' 'Iris Mona', to name a few. Fans sang along with a row of crowd surfers, it was an atmosphere of celebration, jubilation.
Epica : This Dutch symphonic metal band too was received with an exultant shouting and cheering. They had chosen songs from their various albums playing a few songs from their latest album 'Omega' such as 'Alpha,' 'Abyss of time.' A very positive response from fans a pleasure to watch. Their set is elaborate, with a grand metal sculpture of a snake and other intricate symbols, along with use of pyrotechnics throughout. Simone Simones is very graceful the band enjoys good camaraderie amongst them which is visible. Interaction and synchronisation amongst the musician is commendable. Their pleasure at performancing is obvious transferring to fans in torrents. All throughout their performance, the onlookers sang along, cheered, many a circle pits visible and a final wall of death for the final song 'Consign to Oblivion.' It was a triumphant evening for Epica and their fans.
Nightwish: A symphonic metal band from Finland formed in 1996. Their show began with fierce drumbeats from Kai Hahto shouts and cheering began from the huge crowd. Floor Jansen entered the stage beginning a very strong and powerful show. For this show their bassist Marco Hietola was replaced by Jukka Koskinen. Each musician in tandem, the whole show was a metal orchestral odyssey. Floor Jansen's voice and presence is very dominant on stage. It was an enchanting and passionate evening with Nightwish.
Guns N Roses. The mainstage arena was completely packed by now, I am estimating around 70,000 people ensembled to witness this grand iconic performance. It was a special moment index as after 25years most of the members from the original line-up reuniting for this 2hrs set. The air was filled with excitement and palpitation in anticipation. It was an eclectic atmosphere. The wait was over, and the much-awaited moment finally arrived with bassist Duff Mckagan launching his first bass notes of 'It's So Easy,' with that the crowd exploded, cheers, whistles and applause as the rest of the band joined in. Following with 'Mr. Brownstone' and 'Welcome To The Jungle.' Rows of continuous crowd surfers, bobbing heads, dancing feet and the whole arena were singing along with the mighty Guns And Roses. Despite having a plethora of hit songs to choose from their own albums, they chose to include mix of covers of various artists and some of their originals. AC/DC 'Back In Black' 'Slither' from Slash's Velvet Revolver 'Live & Let die' by the Wings. Axl Rose then passing on the microphone to Duff for 'I Wanna Be Your Dog' by the Stooges. Slash playing a number of different guitars then out comes the double beck and we know it's going to be 'Civil War' which was a kind of dedication to the people of Ukraine. They didn't have to express their support in words for the war torn country as all along the Ukranian flag kept flying from the beginning till the end. Axl Rose called upon all band member to introduce them, but when it was the moment to introduce Slash, he had to just say "and on the fucking guitar is…" and the whole went unanimously "Slash" followed by a solo performance from slash which was really tasty as always. Then comes the ever super hit and most known numbers worldwide 'Sweet Child Of Mine' and 'November Rain.'  It was a very participative show. The positive reciprocation from the crowd was immense. The backdrop screen played images to go with each song, during 'November Rain' lights turned violet with red/ violet roses on the big screen, the sound of thunder and rain drops falling on a candle for each note played on the piano by Axl Rose. It was delightful and emotional experience as it ever was. Towards the end of their set Slash and Richard Foetus played 'Night Train' followed by a excellent cover of The Beatles classic 'Blackbird' followed by 'Patience' from the bands second album 'Lies.' Evoking various emotions with a mixture of cover and originals. It was a great experience to see Duff, Slash and Axl jamming up like in the good old days. A rather memorable experience. It was obvious that Axl was not on top form, the star who is known for his wide range of vocals was sometimes struggling to sing, but his team kept it tight and helped Axl to balance it out. Fans continued to supported him and showered their unconditional love.
Sunday 26th
Still the performance of Guns N Roses ringing in the head, I recharged myself to celebrate the last day of the festival, wherein most headliners were lined up towards the evening with a phenomenal closing act from none other than Metallica.
Alien Weaponry: a groove /trash/nu metal band was playing at the Mainstage. A band consisting of (drummer) Henry de Jong, Lewis de Jong (guitar) and Turanga Morgan- Edmonds. All 3 members of the band have a Māori ancestry and their songs embody the Maori culture and lineage. Their songs talk about the human conflicts, misunderstandings, the colonial past and the Māori heritage. Most of their songs are written and performed in Māori language. Before every song they gave a backstory or a gist of the lyrics and emotions behind the songs. It was a phenomenal performance, the infusion of indigenous culture with powerful metal riff was perfectly blended. Winning over more fans at Hellfest and their road to success is definitely going to be as solid as their performance.
Il Nino: The American heavy metal from New Jersey with a Latin flavor made sure energy levels for the party went high. The party rocked with dominant vocals of Marcos Leal and fierce percussion of Dave Chavvari. Later to rock the mainstage were some local favourite bands like Head Charger from Cannes then Tagada Jones from Rennes, Bretagne, France. Tagada Jones is punk band that does mix the elements of heavy metal with electro. Playing some of their hits including their title 'Mort au con' a real favourite evoking maximum reactions. The atmosphere was all charged up and energetic , circle pits, crowd surfers, cheering and dancing. The screen was set for what was to follow.
Today the structure of the stage was modified to accommodate Metallica. it was a snake pit. Bullet For My Valentine: The Welsh band received an overwhelming response from. It was a well-crafted and energetic show. They chose a variety of songs from their albums. It was a smashing beginning with 'Your betrayal.' Songs such as 'Tears don't fall,' 'Scream' and 'Aim Fire.'  Jason Bowld, Matthew Tuck and Jamie Mathias did an excellent job putting on a successful show.
Avatar: The Swedish metal band made a dramatic entry. On notes of Serge Gainsbourg's 'J'taime non plus' drummer Alfredsson carrying a colourful bouquet of roses went around the stage distributing them amongst the crowd building up an ambience before breaking into 'Hail the Apocalypse' All dressed in red and black, Singer and front man Johannes Eckerson made up as a clown. The moment they began, they unleashed a frenzy. Headbanging, crowd surging and circle pits were a norm during the show. Their setlist was a mix of songs from their various albums, also playing a few songs such as 'Colossus' and 'Get in line' from their latest album: 'Hunter Gather.' All the band members were equally fierce and pumped up. Eckerson frequently interacting with the crowd. They were really dramatic, fierce and energetic all throughout their show. Another interesting detail of their act was that Eckerson drank water from a recipient that was a huge gasoline can, rolling his eyes as if hinting the crowd that he needed to recharge himself to continue to raise the energy levels. It was all very endearing. A very intensely charged atmosphere for 'Bloody Angel' and 'Eagle Has landed' with all hands up in the air, cheering and singing. The show reached its climax when Eckerson took the microphone and said, "Some critics say that Avatar is a freak show, so let show them what freaks we are" and goes on to sing 'Freak show.' Before ending the set Eckerson thanked his fans for supporting them throughout and being the reason for their success. They seemed very grateful to be playing at Hellfest.  Avatar as a band is phenomenal in terms of energy and presentation and I sure fans of Avatar would await them for the next edition.
Bring Me The Horizon: The metal core band from Sheffield, England led by Oliver Skyes was worth the wait. Dressed in a tattooed t-shirt covering his own tattooed body and his sheepish smile brought in the chat to the evening. With Psychedelic images running on background screen and dancers on stage Oli began the set with 'Can you feel My heart', the catchy tune led to people dancing and the impressive, deep voice of Skye's evoked emotions of a broken heart. Very powerful stage presence and equally strong lyrics and music mesmerized the crowd. Oliver continuously interacted, demanding love, free hugs, circle pits and he got it. It was remarkable how swiftly he moved from screams n growls to clear singing. It was a real pleasure to watch them live. A very enjoyable, loving and passionate experience.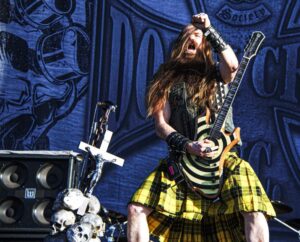 Black Label Society:  An American heavy metal band from California led by Zack Wylde to a burst of excitement. Dressed in a yellow Kilt, a guitar designed to match the ensemble and a microphone covered with skulls he unleashed the wild beast inside of him and putting on a terrific show. It was a pleasure to watch the master shredder at work. A true virtuoso! There was not a dull moment throughout the show, competing and intertwined solos, fabulous guitar solos with fierce singing made for a spectacular show. Before leaving giving away merchandise, t-shirts, guitar pics to an equally spectacular sea of fans.
The most awaited moment for thousands of Metallica fans had arrived. A huge gathering of 70,000 plus around the mainstage arena. The lights went dark, there was a huge build up to welcome the legends on stage. On the notes of fierce drum beats, the stage lit up in bits and pieces with the crowd going crazy, cheering, whistling and applauding, then on the last beat the stage lit up with James Hetfield team greeting them, then a countdown to 3 before breaking into 'Whiplash,' followed by 'Creeping death' then 'Enter Sandman' After which Hetfield teases the crowd saying "Oh we have already played our best song, what do we do now …."and breaks into the riffs of 'Harvester of Sorrow.' Needless to say, there is a continuous row of slammers and crowd surfers every second of the show as everyone wanted to get as close as they could.  Of course, this is Metallica – the gods of heavy metal and childhood Icons for a whole generation who ate, drank and slept Metallica growing up. During their performance of 'Fade To Black' Hetfield takes a pause to talk to about how it is a dark song and how he has been personally touched by the subject of suicide. He encourages the people to seek out help, to talk, to express themselves if they ever dealt this dark demon.  It was a very intense and emotional moment. Ending their set with 'Seek & Destroy' with encores of 'Damage Inc.' 'One' and of course none other than then 'Master of Puppets.' The crowd explode with sheer joy and pleasure, hanging round for applauds, shouts, cheers and whistles all while the grand Metallica took a bow, thanked the audience and gave away pics, drumsticks and parallelly behind them were fireworks, as colourful and intense as their show in fact as the whole festival. It was a momentous experience!! Metallica 's show tonight was nothing less than a carefully curated art piece to be adorned and cherished forever.
Even though Metallica was playing the Mainstage, there were still few other bands playing parallelly at Valley and Altar stages. I did happen to catch a glimpse of Orange Goblin at the Valley stage. Having a sizeable number of people attending their show despite the fact that the Metal Gods were playing just nearby. Singer/ front man Ben Ward was feeling very humbled and grateful for his fans, thanked them profusely for supporting him and showering their unconditional love. Though they aren't as commercially successful as Metallica, Orange Goblin put on a flawless show, very energetic, steady and consistent, completely up to the expectations of their fans and their own reputation.
There we go. The fireworks announced the end of the celebration, like everyone, I kept watching, sparks of green, violet, silver & gold bursting into the sky like the bursts of energy, joy and various other emotions that we all had experienced, all the performances and memories started running through our heads and the thought that it was really the end of a great festival just sinking in.  As I walked out of the Hellgate's, I couldn't help but feel all the mixed feelings, of gratefulness for the experience, the joy for being a part of it and also the sadness that it had finally come to an end. Hmmmm I thought to myself, well over the next few days I've got to beat the blues!!!!!
Well, the fact that Hellfest would be back next year, brings back a smile on my face and I carry on. Already announcing dates 16th to 18th June 2023, tickets to go on by September / October 2022 so look keep a lookout next edition.
Merci beaucoup, Au Revoir et Abiento !