Euphoria in Hell ! Hellfest 2022
After 2 years of dry period, all hell broke loose in Clisson, France, with commencement of much eagerly awaited Hellfest Festival – dedicated to all genres of extreme rock and metal music. It was a special 15th anniversary double edition with a power packed, ecstatic programme, a total of 350 bands to attend between six stages dedicated to different genres of rock and metal. For the two weekends starting from 17th of June, 2022 The sleepy town of Clisson with its picturesque landscape and vineyards, came alive transforming into Clisson 'Rock City.' The annual pilgrimage site for rock and metal fans from all over the world to celebrate music and life! People started pouring in as early as Wednesday, some to park their cars, vans, to find the best place to settle for next 2 weeks and some to warm up and regroup before the party started!
Like every year, this year too the organisation of the festival was impeccable, no complaints there. No expense was spared to organise the most iconic festival of the decade.
Due to the new sanitary rules and some administrative difficulties faced by the bands or by the Festival, many last-minute changes were made to the running order but in the end all timeslots were filled with the best of the best.
This edition was headlined by many greats and legends of rock & heavy metal like Deep Purple, Judas Priest, Guns N Roses, Alice Cooper, Scorpions and none other than Metallica who closed the festival in style followed by an emence spectacle of pyrotechnics.
I wish, I could have at least 10 avatars of me attending the many stages at the same time, but as it's not the case, I chose to attend what I could out of the total of 350 bands.
Week 1 – 17th June to 19th June : 'Lets Get The Party Started.'
First day Friday 17th June began with the mercury rising up to 40 degrees, the hottest hellest ever, nevertheless the soldering heat did not bother the fans, they were ready to burn in hell! The atmosphere was electric as friends, fans regrouped after a long time, eagerly awaiting to watch their favourite artists and get the party started. The Festival had already taken note of the temperatures rising and all the necessary measures were in place, there were 2 industrial size humidifiers spraying cool water on passersby between the Mainstage and the passage to the Temple, Altar and Valley stage. The challenger team in the security close to the barriers of the Mainstage were equipped with hoses spraying water on the slammers, crowd surfers and the crowd to keep them from dehydration, also one could always pass through the curtain of water between the mainstage and Warzone, people could find some shade and relax in the garden of Muscadet too. There were sufficient waterpoints around the grounds to beat the heat and stay hydrated. On top of that there was a quick response medical team at all hours on the site to reach out to people in case of medical emergencies, not to forget the permanent deployment of ambulances, fire and police service outsite the site in case of any emergency. In short, as mentioned earlier there was much attention to details.
The 2 mainstages came alive as early as 11hr in the morning with French metal band Heart Attack opening their act at Mainstage 2, they had played in the metal corner for the edition of Hellfest in 2015. Being a promising young band who formed in 2007 producing 3 albums. Parallelly. The festival being kick started by Abrahma, Parisian stoner rock band on the Valley Stage along with Shades And Dust , a young death metal band from Nantes, on the Altar Stage. The crowds continued to gather and warm up around the mainstages with the performances from Laura cox, Ego Kill Talent Brazilian hard-rockers followed by the Prog metal masters Leprous.
The party warmed up completely on the mainstage, by the arrival of French hard rock band Inspector Cluzo-The sons of the soil, rightly called so as besides being musicians, the vocalist/guitarist Malcom Lacroutes accompanied by drummer/backup vocalist Phil Jordain feel very close to the countryside and the soil which they embody in their music as well as by working in their farm in Gascony, France. It was evident from their set of "A Man outstanding In His Field" and "running a family farm. Their music makes it impossible, to be bound by any rules on genres of music, they are independent in their spirit and musical expression. Ending their stage their set with "Put your hand up with inspector Cluzo", a duet of drums and guitar with the rhythmic chant of Malcom " put your hands up", the crowd reciprocated with chants and by putting their hands up in the air, raising the energy levels of the crowd from being exhilarated to ecstatic. They left the stage waving at the exultant crowd, leaving the mutual feeling of being a huge success.
Followed by Inspector Cluzo, it was Frank Carter & Rattlesnakes the English punk rock band that assured that the energy levels in the crowd were taken up a notch. Front man Frank Carter and Dean Richardon the guitarist took turns jumping in the crowd, there was a frenzy, mosh pits, dancing and all hands up in the air, It was 30minutes of pure jubilance with not a dull moment to spare. Before singing "Wild Flowers" Frank asked the crowds to make way for a special mosh pit only for girls. It was a sweet gesture. They ended their set with "Crowbar" leaving everyone wanting more.
Opeth, a Swedish progressive metal: rock band arrived on Mainstage 2, setting the mood for intensity. They kept everyone engaged and intrigued with their range of distinctive prog sounds and riffs, clapping hands, tapping feet to the beat.
It was now time for punk rockers from California, The Offspring to set the stage of fire metaphorically they did not disappoint. Taking over from where Frank Carter & The Rattlesnakes left off, a jubilant party. Even before Dexter Holland could begin to sing or play the guitar, the crowds welcomed the band with whistles, claps and chants. There was continuous row of crowd surfers, slammers, mosh pits, dance pits and the energy levels kept rising for the whole duration of their set. Fans also had the pleasure of discovering their new album – Let The Bad Times Roll.
Mastodon, a heavy metal band from Atlanta , USA kept the energy levels high up, at times their music might sometimes come across as being hostile which could be cathartic experience Their drummer- Brann Dailor , guitarist Brent Hinds and Troy Sanders share vocals, each one having their distinctive tones blending together well to create a perfect recipe for a successful live concert. Besides sharing vocals and guitar duties, each one of them are individually good musicians. Ending their set with "Blood and Thunder" with all hands raised up in the air and headbanging.
Dropkick Murphys, a Celtic punk band unleashed a festive flavor fun filled set, kicking started with Boys On The Docks, followed by The Walking Dead. Singer Ken Casey, stomped around the stage during their entire set . The audiences were equally energetic and jumped along to the Celtic charm in their music. There was palpable energy during their performance of Good As Gold, shots of ribbons and confetti were fired from the stage, ending their set with a circle pit in the crowd for "Shipping Up to Boston". Al Bar (second singer) unfortunately not able to make it for this tour.
The moods and atmosphere for Deftones, an alternative metal band from, California-USA, was different than that of Dropkick Murphys . It got more intense, a universe of rap-metal, with consistent and a varied range of screams from Chris Moreno along with his mellow tones, made up for a strong set for the evening. Their lead guitarist Stef Carpenter could not make it to this tour, being replaced with Lance Jackman for this show. During their set, sometimes, I got the impression of the sound not functioning efficiently and failing to carry the voice of Chris Moreno effectively. Nevertheless, they got everyone's hands up in the air and their feet stomping during their entire performance. Deftones are very consistent with their live performances, they never failing to deliver their best.
The first night of the festival ended with some groovy rock and roll tunes from Volbeat, in a rockabilly style at the mainstage while parallelly the evening was closed at the temple stage by Suicidal Tendencies, an American trash band and Mayhem, a Swedish black metal band closed the evening at the valley stage with an intense performance, belting out their black metal tunes. It was a perfect first day, getting us more excited for what lay ahead of us for the days that follow.
Day 2 Saturday – 18th June,
After an excellent start to the festival, and some good rest, I was back in hell for a power packed Saturday. Opening Mainstage-1, Fire From The Gods, an American Rap Metal band from Austin, Texas. For a particularly hot day, the number of spectators present for their show was commendable. It was a well chosen set for the festival, perfect rhythm and energy to kickstart the day. Frontman A J Channer, was very touched by the gesture and enthusiasm of his fans and he thus descended among them to thank them personally for their love and support. Also very modestly he exclaimed his contentment on having achieving his childhood dream of playing at Hellfest.
Some last minute changes were made to the running order for the day : Dead Daisies couldn't make it to the festival thus a local but extremely talented band were invited to do cover of System Of A Down, it went well . Later on, I moved on to the Mainstage 2 for the set of Soen -a Progressive Metal Group from Sweden. With Joel Ekelof (singer), Cody Ford (guitar), Larss Ahlund (guitare & keyboard), Stefan Stenberg(bass) & Martinez Lopez (drums) are individually extremely talented musicians. Martinez Lopez has also played for Opeth and Amon Amarth in the past. Together they delivered a strong and intense set. Singer, Joel has a euphonius voice and his presence is undeniable on the stage The band maintained a good balance between being melodious and maintaining the elements of prog metal.
Skillet, a Christian Rock band from Memphis, Tennessee was up next on Mainstage -1. They had performing a perfect, full of energy and enthusiasm. Korey Cooper did an excellent job on guitar along with drummer Jen Ledger.
I decided to break away from the mainstage for a little while and checkout the other bands playing at the Valley and Warzone Stage. Parisian Punk Rockers Frustration. As their name suggests. their performance was fierce and passionate with distinctive sound. Having their loyal fans front and center with more people joining at the warzone stage to explore their music. They have been progressing organically due to the approval and appreciation from their ardent fans.
Next up Vintage Caravan, at the Valley stage. These boys from Iceland bring in the tunes of rock from the 70"s. Being a very energetic performance with element of fun, singer/guitarist Oska Logi Aguistsson, with his retro clothes, moves and sings with an ease of a natural rockstar. All members together put up an energetic show reflecting humility, fun and sheer pleasure. It was time for me to move in the direction of the 2 Mainstages again as it was now time to party with the headliners of the evening. Navigating through the sea of people between the Valley and the mainstages, I managed to arrive on time to explore the music of Alestorm, the Pirate Metal Crew, from Perth, Scotland. There was sizeable number of spectators at their performance. Front man and vocalist Christopher Bowes dressed in a red kilt with a small keyboard hung like a guitar or a keytar if that could be a word along with a huge yellow duck placed as mascot on the stage, rendering a very groovy and festive mood. The crowd was jumping, but their complete disregard for lyrics is what I found difficult to digest, but it seems being silly with words is was makes them a Pirate Crew.  Absolutely check them out for fun value.
The band that really lit up my evening was Rival Sons, a rock band from California. Pure joy of blues and classic rock tunes. The band is reminiscence of legendary rock bands from the past, but still having their own individuality. Perfect combination of good music, lyrics along with a great stage presence. The band consists of Jay Buchanan (lead vocals), Scott Holiday(guitar), Dave Beste (Bass guitar) and Michael Mikey(drums), their musical arrangement together is perfect, along with the voice, and moves of Jay Buchnan, they take you for a joyride into the past and back to the present leaving you mesmerised and groovy.
Next up was Steel Panther, divas of Glam Metal from Los Angeles, California. You can either love them or hate them but definitely can't ignore them, they definitely know how to get reactions from the audience whether positive or negative. Michel Starr and Russ Parish know how to play the game. Their lyrics sound profane or sometimes very desperate, you definitely have got to have a sense of humor, or you best stay at home.  They have an air of being easy going, funny and ridiculous, if you do not pay attention to their lyrics, then you might groove to their tunes. Personally, I do not dig this humor in lyrics of rock or metal bands, thus they did not appeal to me, but overall they did tickle the funny bone, generate reaction, were successful in getting a group of girls from the audience on the stage to sing and dance for and with them, some of the women went topless to play along with them and stealing some of the sunshine.
After Steel Panther, it was time to get ready to watch one of my childhood idols, none other than Megadeth. Dave Mustaine needs no introduction or critique, he has proved his metal, his passion and his determination throughout his career spanning over 39 years, winning the hearts of fans from across continents and generations. Despite his recent few years of struggle with cancer, Dave Mustaine gave his all and rocked the Mainstage. He explained to the crowd of how he was feeling optimistic and energetic and how he has just "beating the shit out of cancer." Playing 'We'll Be Back' from their new album , 'The Sick, the dying and the dead.
It was now time to celebrate the legends Deep Purple. Keeping rock alive and kicking!  The place was filled with adulation and love for Deep Purple. Closing their set with a medley of Hush, their very first hit from 1967, 'Gimme Some Lovin' and Dazed & Confused.
We were quickly transported from the past into the present by the performance of 'Ghost'- Papa Emeritus and now his 7 nameless ghouls. It's a team of 8 musicians, while Papa Emeritus goes for a change of costume every now and then, his nameless ghouls are dressed in steam punk masks …. playing like machines working their magic. There is music, singing, acting, the whole performance, a complete metal theatre experience. Together they put up a beautiful, mystic and impressionable show, however Tobias Forge (Papa Emeritus) was having difficulty with his voice as he sang their famous track 'Dance Macabre' that he franky exclaimed that it was too much strain for his vocal cords and he wouldn't be able to sing the most awaited song and usually closing song « Glory Hammer'. Tobias was very swift and honest about it and they could gracefully leave the stage with their fan's approval, love and support. None the less there was no disappointment, overall, a true sense was a success.
From Ghost it went to the ball of fire from Australia – Airbourne. From being reminiscent of AC/DC to getting people to adhere to their brand of music, Airbourne is basking in the sunshine! There is never a dull moment at a Airbourne show, beers flying all over the place with Joel Keef belting his tunes and moving around the stage at lightening speed, there was a continuous flow of energy on stage. There was a non-stop row of slammers, crowd surfers and all hands up in the air. These Australian boys definitely know how to light fire. They have an air of infectious energy about them by which audiences were completely captivated. A wonderful way to end the festive day!
Day 3 Sunday – 19th June.
Here I was, all set to witness the last day of a crazy first weekend of excitement and euphoria. Maintaining a consistent level of energy and after following the daily ritual of charging and making sure that all the gears were good to go, I made it to the show of Lacuna Coil on the mainstage. Lacuna Coil is a Gothic Metal Band from Milan, Italy. Their frontwoman, Christina Scabia stole the show with her clear and soaring vocals. All hands went up in the air for 'Reckless get a field.' They are currently working on new songs for their 10th studio album.
At the Temple stage Can Bardd were playing their set, a Black/Folk Metal Band from Geneva, Switzerland bringing in the intensity and savagery of nature while maintaining the core of black metal. I stayed back at the Temple stage as next up were local favourites from Nantes, Regardes Les Hommes Tomber. The venue was completely overcrowded with fans who came to get aligned with the band's dense sound, abrasive and uncontrolled energy.
After watching a few performances at the Temple stage, I made my way back to the Mainstage and arrived for the performance of Car Bomb, a Mathcore Metal Band from New York. Michael Dafferner could not make it to the show, but the show had to go on, it was an interesting experience, though the audience and myself included enjoyed the progressive, calculated sounds and musical arrangements, but still something felt amiss, the vocals completely missing did make a huge difference nonetheless the fans sang to themselves and grooved to their music.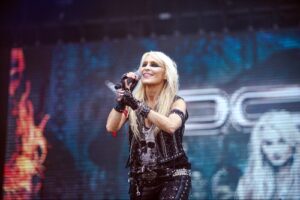 It was now time for 'Metal Queen' and her crew to grace the stage. Doro, rightly monikered as the 'Metal Queen' didn't fail to capture hearts once again. Her career spanning for more than 35 years has earned fans from all over the world and of all generations. Doro has an air of humility and kindness to, and we can feel the ease and rapport that the whole crew of musicians enjoy with her. Doro alois a philanthropist along with being an inspiration to many young women starting their career in the metal scene. It was a real pleasure. The venue of and around was crowded during performance of Doro but with arrival of Jinjer it went completely crazy, there were about 45000-50000 people present for their show.
Jinjer is a Metalcore band from Donetsk, Ukraine. With the ongoing situation in Ukraine, it was natural for them to fly their Flag on stage. Tatiana Shmyluk, their frontwoman and vocalist explained how happy their band was to get permission from the countries ministry of culture to allow them to tour and assist in the efforts of helping the people back home, in the war-torn country. Don't be fooled by the petite stature of Tatiana, delivering powerhouse vocals which left the people mesmerised. Throughout their set she kept switching between powerful growls to melodious singing with such ease and elegance. Completely stealing the show. Guitarist, Roman Ibramkhlilov equally effective on strings and complemented Tatiana well. Jinjer, as a band are climbing up the ladder on the international world stage very steadily.
Followed by Jinjer was Michael Scheneker playing his guitar with dexterous fluidity as usual and belting out his classics one after another, with an expression of peace and joy on his face, Scheneker was on top form and did not fail to deliver what his fans expect of him and much more.
Next up on the Mainstage was a band from the far east, Maximum The Hormone, a Nu Metal/Punk Hardcore Band from Tokyo, Japan. The language barrier wasn't a constraint at all, Nao Kawakita worked her magic on drums and backup vocals and so did Ryo Kawakita (guitar) Daisuke Tsuda (lead vocalist). Their music is loud, fast paced, rhythmic, a very powerful performance with wild energy.  I am very sure they managed to gain more fans this evening.
Now, I awaited the performance of great quality heavy metal band, the supergroup Down from New Orleans, Louisiana. Each member of this supergroup is involved in different projects with various reputed bands such as Pantera, Corrosion Of Conformity, Eye Hate God, Crowbar, Superjoint. It's evident their music is a solid collaboration of different ideas and influences. From music, lyrics to vocals everything is just a perfect heavy metal package. No drama, no costumes, no theatre, no visual effects, all their efforts are solely focused on delivering a strong, solid and intense metal experience. Very impressive and effective.
It was time for me to move away from the Mainstage and check out While She Sleeps, a Metalcore Band from Sheffield, England at Warzone stage. From the start to the end of their performance, the Warzone turned into a giant pit, people jumping, slamming, crowd surfing. Captivating riffs, intense vocals with depth and equally weighted lyrics, a very passionate and energetic performance by the whole band. 'Sleep Society' and 'Silence Speaks' are some of their songs which unleashed the maximum frenzy. They did gain more fans and followers this evening for sure. A very promising band with a bright future ahead. They are scheduled to return to Paris this September.
Once again, the marathon from Warzone to the Mainstage for Judas Priest, I had to miss many other performances at other stages as for Judas Priest the venue was overcrowded, and one had to arrive early and await! All hats off to the stalwart of heavy metal- Rob Halford. A lesson in discipline and practice. After 50 years of singing in high pitched screams along with strong vibratos, he hasn't lost his form. Kicking off their performance with 'One Shot At Glory,' followed by 'You've Got Another Thing Coming,' A Ferocious Freewheel Burning, 'Turbo Lover….leaving the crowd exultantly headbanging, crowd surfing, feet stomping. Guitarist Richie Faulkner was in great form too playing strings with the ease being the maestro he is. The crowds go crazy when the lights go dim and we hear the sound of revving motorcycle engines, a very classic moment at every Judas Priest concert, but every time having the same effect of frenzy and joy when Rob Halford makes his entrance on his motorbike. The exhilarating party continued for the evening with songs like 'Diamonds & Rust,' 'Painkiller….Closing their set with 'Living Into Midnight,' with rows of crowd surfers all around, they took a bow followed by their trademark signoff " The Priest will be back."
We wish they continue coming back and leaving fans wanting more. Their performance is truly timeless and ageless, a truly iconic band that has inspired and influenced generations of different bands across continents.
Followed by the iconic performance of Judas Priest was the intense and mythic performance by Gojira, a heavy metal band from Ondres, France. Gojira has a huge fan base in France, they have rightly earned their space on the international stage for Metal music. Minimalistic and simple in their approach, the band's focus has been their music and lyrics which are always beaming with the love for nature and life. Meaningful, fervent and sublime performance by the Duplantier brothers and they are here to stay. The closing act on Mainstage was by Running Wild but I really wanted to explore the music and art of the Black Metal Band Watain from Sweden at Temple stage which was the last performance for the day. Everything was unique about this band, the stage turned into a kind of Temple to worship Satan. Fire lit up throughout the show, various signs, symbols, carcasses of animals placed carefully on the stage. It was like partaking in a ritual of sorts, to be exact, it's partaking in 'Devil worship'. Waitan identify themselves as Theists Stanics. Their lyrics are all about 'Satanism' and Devil worship. They have a ferocious look that can be intimidating. Most bands adopt a stage persona to spice up their act and off stage they are not the same persona from onstage, but in case of Watain, are the same on and off stage that is purists of black metal and believers of Satanism. Droning guitars to frantic blast beats and some serious black metal vocals, Watain was a truly unique experience from the bands performing at the Mainstage. Their fans very seriously partaking in all the rituals while headbanging and stomping away. Towards the end of their performance, I could hear the sound of fireworks bursting from around the Mainstage area, but I got so carried away by Waitain I decided to stay until the end.
The fireworks were a symbol of closing of a great, exultant weekend filled with wonderful performances, varied emotions, great ambience and exuberance. As I made my way back to the camp, I couldn't believe that 3 extraordinary days had already passed within the blink of an eye. I was feeling a little sad about it ending, but then the thought there was still another great weekend to experience, filled my heart with joy. No time or festival blues yet!