GRITTY IN PINK x PUNK ROCK PAINT BRUSHES PRESENT ALL FEMALE
MUSIC AND ART SHOW FOR WOMEN'S HISTORY MONTH
Musicians and Artists Come Together For a Celebration In SoCal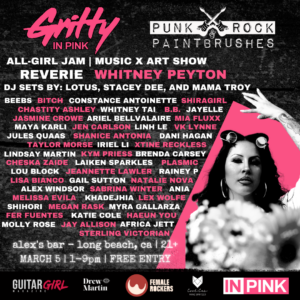 Los Angeles (February 2022): Gritty In Pink and Punk Rock & Paint Brushes are teaming up for an All Girl Jam and art show extravaganza on Saturday, March 5 from 1-9 PM pst at Alex's Bar in Long Beach, CA. The All Girl Jam will feature over 50 of SoCal's best female musicians, covering all female artists, in honor of Women's History Month. Gritty In Pink is on a mission to achieve gender equality in the music industry, through events, partnerships, and an online marketplace. This Women's Month event comes hot off the heels of their Black History Month livestream event with Punk Black.
The March 5 concert will feature co-headlining performances by Reverie, the legendary Latina rapper, and Philly native rapper Whitney Peyton. The All Girl Jam will include singer/songwriter Bitch, drummer Lindsay Martin (Lilith Czar), Linh Le and Myra Gallarza (Bad Cop Bad Cop) the multi-talented producer/vocalist/percussionist Chastity Ashley (Duran Duran), Gritty ringleader Shiragirl, hard rock/metal mainstay VK Lynne (The Spider Accomplice), punk artist Xtine Reckless, emerging Tik Tok singer/songwriter Maya Karli, musical director Lex Wolfe, singer and visual artist Beebs, and many more! DJ sets from Lotus, Stacey Dee (Bad Cop Bad Cop), and Mama Troy (widow of Sublime's Bradley Nowell) will provide a soundtrack to the day. The event will be sponsored by Guitar Girl Magazine, Cool Cat Wine, Drew Martin, Female Rockers, and Gritty In Pink's new marketplace for women in music, INPINK. 
The indoor/outdoor event will be free entry, with the Jam starting at 5 PM. The outdoor space will feature a Punk Rock & Paintbrushes all-women art exhibit of 16 artists, including Soma Snakeoil, Lisa Brownlee, and Chloe Trujillo (wife of Metallica's Rob Trujillo). The event will also feature artisans, merchandise booths, and drink specials.
Those who attend will have the opportunity to win musical gear prizes by signing up as a new user on INPINK.com. Like a female-powered Upwork for the music business, INPINK aims to democratize access to a gate kept industry, and provide a pipeline of female talent for industry pros looking to hire from a diverse community of female creators. The event performers will be available for hire on INPINK. Visit INPINK.com to learn more information and sign up.
The city of Long Beach couldn't be a more perfect location for the post-pandemic return of Gritty In Pink's All Girl Jam; the company was recently selected for the prestigious Long Beach Accelerator program for emerging tech startups. The Accelerator became Gritty's first official investor, along with funding partner Sunstone.
Those in the SoCal area, mark your calendars for Saturday, March 5 – for those not in the area, the event will be livestreamed in part on social media, so be sure to follow!- this event is going to be one for the books! To stay up to date on Gritty In Pink, visit their Instagram or www.grittyinpink.co for more information and future announcements.
Gritty in Pink is a new platform empowering women in music through performance, partnerships, and networking opportunities. Founder Shira Yevin has a legendary history of breaking down barriers and carving out a space for women, as the creator of the Vans Warped Tour Shiragirl Stage, which featured 300+ female musicians, including Joan Jett and Paramore. Gritty In Pink continues the legacy of providing a community and a platform for female voices in a male-dominated industry, having showcased 200+ artists with a collective following of 5 million on Instagram and 13 million on Tiktok. 
Punk Rock & Paintbrushes is a niche & unique art management company as well as art show production brand. We manage talented artists across the globe who share the love of music and art.  We bring art to our collectors and fans of artists from all walks of life. Our art shows are produced across the earth to share our love of art with you. All artists bleed for their art and each individual we work with is a talented and passionate artist we are proud to have as part of our Punk Rock & Paintbrushes family.
Follow @grittyinpinklife and @shira_girl on Instagram visit the website grittyinpink.co for more info.