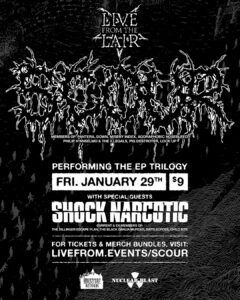 SCOUR, the extreme metal collective featuring Philip H. Anselmo (Pantera, Down, En Minor), John Jarvis (Agoraphobic Nosebleed), Derek Engemann (Philip H. Anselmo & The Illegals), Mark Kloeppel (Misery Index), and Adam Jarvis (Pig Destroyer, Lock Up) will kick off 2021 with an exclusive livestream performance later this month!
The multi-camera livestream event will take place 29th January at Anselmo's renowned Nodferatu's Lair Studio and find the band performing their EP trilogy in it's scathing entirety! The livestream will also include an opening set by Housecore recording artists/Detroit grind ensemble Shock Narcotic featuring current and former members of The Dillinger Escape Plan, The Black Dahlia Murder, Battlecross and Child Bite.
Comments Anselmo, "I'm excited to have another Housecore Records stream, this time featuring SCOUR and Shock Narcotic. Buy the stream and let's jam!"
Livestream Tickets, Packages, and Exclusive Merch  Available HERE
SCOUR released their long-anticipated The Black EP on Black Friday (27th November 27th) 2020. The critically lauded, six-track recording follows the release of 2016's The Grey EP and 2017's The Red EP and serves as the final installment of the band's EP trilogy.
SCOUR made their debut with their ferocious first single 'Dispatched'. The Grey EP, released via Anselmo's own Housecore Records dropped in 2016, followed by The Red EP in 2017. Faster, tighter, and more relentless than ever before, this year's The Black is inarguably the band's most savage effort to date.
SCOUR derives it's sound from an intentional minimalist approach. Displaying an emphasis on cohesive song writing and direct composition ideas, exhibited through relentless battery, the band brims with creepy and ominous hooks, dark and macabre vocals, blasting drums, and buzzsaw guitars to get straight to the point. Drawing influences from all extreme entities, SCOUR self continues to pay homage to some of metal's most prominent acts as can be heard with the 2019 release of their cover of Bathory's 'Massacre'.
In it's short existence, the band has graced the stages of many of the major players in both the mainstream and metal-oriented music festival circuits including Roskilde, Hellfest, Tecate Metal Festival, Maryland Deathfest, and more. As the lineage of its membership suggests, SCOUR continues to be a proverbial force with which to be reckoned both on the stage and in the studio.
SCOUR Are:
Philip H. Anselmo – vocals
Derek Engemann – guitar, backing vocals
John Jarvis – bass, backing vocals
Mark Kloeppel – guitar, backing vocals
Adam Jarvis – drums
SCOUR Online:
FACEBOOK
TWITTER
INSTAGRAM