BURNING WITCHES
LAUNCH PRE-ORDER FOR
'THE CIRCLE OF FIVE'
VINYL EP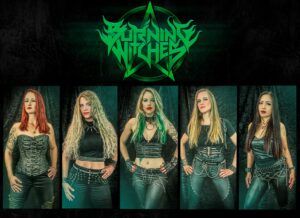 The Swiss heavy metal band BURNING WITCHES have launched their pre-order for 'The Circle Of Five' vinyl EP today. Accompanied by their mighty new witch Larissa, the ladies recorded their new masterpiece a few weeks ago, which will be released on December 4th 2020 via Nuclear Blast.
Vocalist Laura greets their fans
This release will be available in two limited edition formats: A limited mint vinyl EP and a limited sparkle vinyl EP.
Pre-order your copy of the 'The Circle Of Five' vinyl EP in the format of your choice:
http://nblast.de/BW-TheCircleOfFiveEP
BURNING WITCHES comment: "Due to a high demand from fans, we are luckily able to release these special songs. These tracks were all created in these current circumstances, and are now available together on one vinyl EP. We love the fact that our devotees and the label still supports those unique vinyl releases!  In these digital times it is more important than ever!"
'The Circle of Five' Tracklist
Side A
1. The Circle Of Five
2. We Eat Your Children (live)
Side B
1. Dance With The Devil (live)
2. Black Magic (live)
Check out the video for 'The Circle Of Five' below…
BURNING WITCHES' manager and DESTRUCTION front man Schmier comments: "Indeed the circle is now complete with Larissa. It was amazing to see how the girls have progressed throughout these last months! The new song 'Circle of Five' is a strong statement for the next album and the future of this bright shining HM diamond that the girls are! All hail to the WITCHES!"
Save the single on Spotify, Apple Music and Deezer here: http://nblast.de/BW-TheCircleOfFive
There is more witchcraft coming soon! Check out the official BURNING WITCHES's social medias.
Order latest album Dance With The Devil on a variety of formats here:
nblast.de/BWDanceWithTheDevil
Watch the Witches Corona Acoustic Session here: https://nblast.de/BW-AcousticSessions
'Six Feet Underground' Official Music Video: youtu.be/43CkWSKLfNY
'Sea Of Lies' Official Visualiser: youtu.be/decnY34nllo
'Dance With The Devil' Official Music Video: youtu.be/shbmA2WMHRw
More on Dance With The Devil…
'Wings Of Steel' Official Visualiser: https://youtu.be/Jr0hcJw8km8
'Wings Of Steel' Official Guitar Play-though: https://youtu.be/6dlRVBypcLo
'Wings Of Steel' OFFICIAL DRUM PLAYTHROUGH: https://youtu.be/k0J9yan3kp0
Track by track series:
Part 1: youtu.be/OK565p0R9OI
Part 2: youtu.be/reqQ9UPTYzg
Part 3: youtu.be/K-fgNo7Ym9k
More info:
http://facebook.com/burningwitches666
http://instagram.com/burningwitchesofficial
http://twitter.com/burningwitches_
http://nuclearblast.de/burningwitches