"AVA OF DEATH" OUT NOW!
…..and if you've missed it, the release of "Ava Of Death" October 2nd was nothing less than a success. We are deeply grateful for this fantastic feedback, and we'd also like to thank you for liking, commenting and sharing the hell out of it.
If you haven't seen the new music video yet or haven't heard or seen it, then here it is….
Ava of Death….
FANCY GOING TO THE RELEASE PARTY OF ELIENE'S 3RD ALBUM? LIMITED TICKETS….
TICKETS OUT NOW!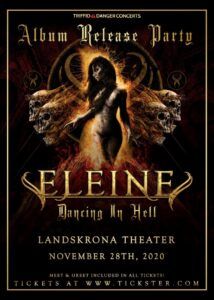 Pre-order the latest album "Dancing in Hell"
A COVID-19 adjusted release party WILL happen November 28th. Tickets are now released HERE! (only 50 tickets available)
"In these times we can't allow ourselves to fall into depression, and let the weight of it all crush us. We need to spread joy, inspire others and keep moving forward. This COVID-19 adjusted release party is something we choose to do for our fans, 'cause we know that many need something positive to look forward to right now". – Madeleine
The release party takes place at the beautiful theater in Landskrona. Get your ticket today, and we'll see you October 28th. Only 50 tickets available due to Swedish restrictions and your safety
#dancinginhell #eleine #newalbum #avaofdeath #asibreathe #eleinelegion