Ace Frehley, KISS co-founder and 2014 Rock and Roll Hall of Fame inductee, continues his reflections on a lifetime in music with the release of 'Origins Vol. 2', a thoughtful and exciting collection of new covers, on 18th September on Steamhammer / SPV as a DigiPak CD (plus bonus track), double gatefold 180 gram blue vinyl LP (with printed inner sleeves), download and stream.
'Space Truckin', the first single and video:
No stranger to cover versions throughout his entire history – having recorded, re-branded and repossessed such notable nuggets as 'New York Groove', 'Do Ya', and 'I Wanna Go Back' over the course of his 8 studio albums – this new compendium contains songs that have all inspired and shaped the legendary guitarist's life jukebox. Ace comments, "I just thought about the songs that I used to play in clubs when I was doing other people's material. I went through my album collection and thought about the songs that influenced me the most. It's a pretty well-rounded record and I think the fans will enjoy it."
'Origins Vol. 2', featuring guest appearances by Robin Zander (Cheap Trick), John 5, Lita Ford and Bruce Kulick, is a well thought out, but not over-thought, album. For Ace, keeping things organic is an important part of crafting an album's atmosphere: "I just let it happen. Things evolve when I start doing these records and I try not to plan too much ahead. I like spontaneity. It's the same way I write guitar solos."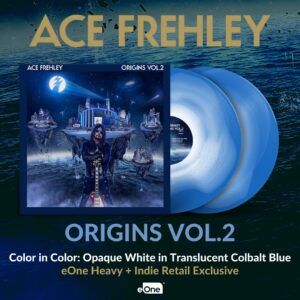 Tracklisting:
Good Times Bad Times (Led Zeppelin)
Never In My Life (Mountain)
Space Truckin' (Deep Purple)
I'm Down (The Beatles)
Jumpin' Jack Flash (The Rolling Stones)
Politician (Cream)
Lola (The Kinks)
30 Days In The Hole (Humble Pie)
Manic Depression (The Jimi Hendrix Experience)
Kicks (Paul Revere & the Raiders)
We Gotta Get Out Of This Place (The Animals)
She (KISS) [Bonus Track]
As the second volume focusing on his musical origins, Ace has grown since the release of  'Origins Vol.1', which hit #23 on the Billboard Top 200 album charts in April 2016, becoming his 4th Top 40 and second highest charting solo album. Ace chuckles, "Since I had one covers album under my belt, the process of doing 'Origins, Vol. 2' was easier because I had put together a formula, picking guest stars and so-on." The challenge for him was to put a suitable personal stamp on the material, and 'Origins, Vol. 2' is replete with special touches that both honour and embellish the songs.
ACE FREHLEY Online: